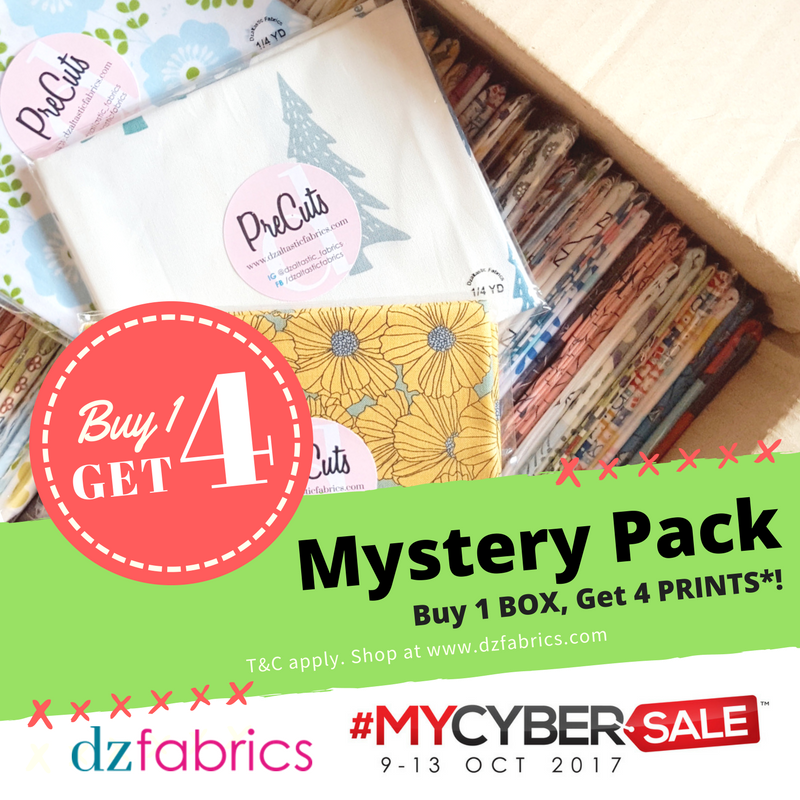 Purchase 1 of our special Mystery Pack bundles during this #MYCYBERSALE and surprise yourself with 4 fat quarter (1/4 yards) with different prints in the mail! Valued at RM42.00. Bundles like these are perfect for beginner sewists / quilters or even to add on to your fat quarter (1/4 yard) craft stash.
Estimated size per 1/4 yard: 45 cm x 55 cm
Offer Terms and Conditions
Price is only valid throughout the #MYCYBERSALE2017 promotion period (9-13 Oct 2017). Strictly none refundable. Prints are randomly selected. Offer valid for 5 months (Oct - Feb). Packs are prepared and posted out end of October or early November.
---
---
Fabric Cuts
Guide for our fabric cuts.
Price is for 1/2 (half) yard, except for precuts, custom fabric printing and tools section
If you'd like 1 yard, select '2'
If you'd like 1.5 yards, select '3'
Any similar design in a single order will be cut into 1 piece.
Standard cotton measurement: